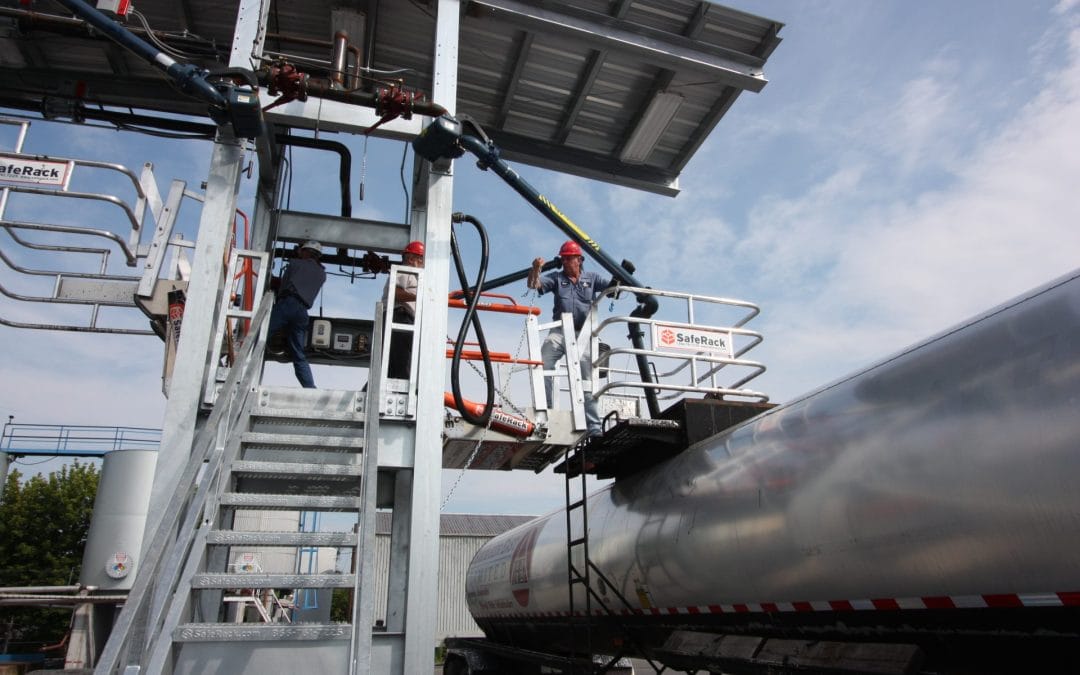 One critical area where safety cannot be compromised is in the loading and unloading of trucks. This is where truck fall protection systems come into play, and Northern Platforms offers a comprehensive solution for these crucial needs. Below, we'll explore the importance of truck fall protection systems and the range of products that contribute to this vital safety aspect. Continue reading to find out more.

Comprehensive Truck Fall Protection Systems
Truck fall protection systems include a wide range of products and safety measures aimed at safeguarding workers during the loading and unloading of trucks. These systems not only protect employees but also ensure the efficient flow of operations, allowing trucks to transfer their loads quickly and safely.

At Northern Platforms, we've been a trusted partner in the design and installation of safe access solutions for truck loading and fall protection since 2002. Our solutions include custom steel loading platforms, available in both stationary and portable configurations. These platforms can be equipped with state-of-the-art loading arms, safety gates, fall protection systems, and operator gangways. We also offer the option to install operator buildings, safety showers, and shelters to provide employees with additional protection during loading and unloading processes.

The Importance of Comprehensive Solutions
High-quality safe access solutions are a hallmark of Northern Platforms' commitment to providing comprehensive truck fall protection systems. Our expertise extends to designing and building complete truck loading and tank trailer fall protection systems. These systems may encompass various components, including:
Custom Loading Platforms: Our loading platforms are engineered to accommodate single truck loading stations to multiple truck loading stations. We understand that trucks and trailers come in various shapes and sizes, so our solutions are flexible and can adapt to different configurations.
Loading Arms: These essential components efficiently load trailers and cargo vessels while ensuring the safety of workers.
Safety Gates: Fall protection is crucial, and our safety gates are designed to prevent accidents and injuries during loading and unloading processes.
Operator Gangways: Operator gangways offer a safe and convenient means for employees to access the truck or trailer during loading and unloading.

Our decades of experience providing truck fall protection systems have given us invaluable insights into what works best. We supply equipment that not only meets safety standards but also ensures the efficiency and consistency of your loading and unloading operations.

SafeRack SAS Gangways: A Versatile Component
As part of our commitment to safety and quality, Northern Platforms proudly stocks industry-leading products like SafeRack's SAS gangways. These gangways are designed to articulate and self-level, accommodating varying heights of tanker trucks and trailers. They are built to last, thanks to their one-piece stair design that reduces welds, virtually eliminating failures. Despite their rugged construction, these SAS gangways are easy to use, with a spring counterbalance that requires minimal effort.

At Northern Platforms, our team takes a consultative approach to determine the best truck fall protection systems for your worksite. We offer on-site visits to develop the right system for your specific needs. With expedited delivery, precision-built components, and custom solutions available, SafeRack's SAS gangways provide a comprehensive solution for your truck fall protection requirements.

Start Designing Your Truck Fall Protection System Today!
Truck fall protection systems are non-negotiable when it comes to ensuring the efficiency and safety of loading and unloading processes. At Northern Platforms, we offer solutions designed to provide reliable and comprehensive fall protection for workers in numerous industries. Additionally, we also offer installation and routine maintenance services to ensure your new fall protection system is correctly set up and ready to go. 

Contact us today to learn more about setting up your truck fall protection system with Northern Platforms.