YellowGate products provide adjustability, mobility, and a universal mounting system for any gated, barrier, or railing need. These features make them superior to other comparable products, providing businesses with a reliable and safe access solution.
YellowGate products give users the flexibility to adjust lengths to fit different-sized openings and change the swing direction of the gate. This ensures that each environment is catered to, with a safe working environment in mind. The universal mounting system also makes installation quick and easy, eliminating any extra hassle.
What's more, YellowGate products are designed with safety and security as a priority, giving businesses peace of mind knowing they have a reliable access solution in place. Years of research and development has gone into producing these industrial-grade gates, railings, and barriers, ensuring they can meet any access needs while providing superior performance. Consumers can be sure they're investing in a reliable access solution that will last them for years to come.
solutions for all APPLICATIONS:
Adaptable: Mounts on all types of handrails (channel, angle, flat bar, pipe) or to an existing wall.
Adjustable: When mounting with a plate directly in line, safety gates can be adjusted out to fit an opening. Adjustable stop bolts provide a positive stop without handrail contact. They also allow position selection to assure closing on either standard or unusual wall and rail angles.
Versatile: Can be mounted on the left or the right, on either side of the handrail, at different levels. Custom stainless steel spring returns ensure the gate closes every time.
YellowGate products include:
Swing Gates: Includes one swing gate, 20 inches of adjustable length, swing direction and a universal mounting system that protects any passageway. No tracking of measurements or mounting types is required.
Aluminum Railing Systems: Fully adjustable that can be installed anywhere with no additional parts to order.
Traffic Barricades and Control Gates: Small adjustable range that fits narrow ladder openings and protects you from dangerous falls.
YELLOWGATE FEATURED PRODUCTS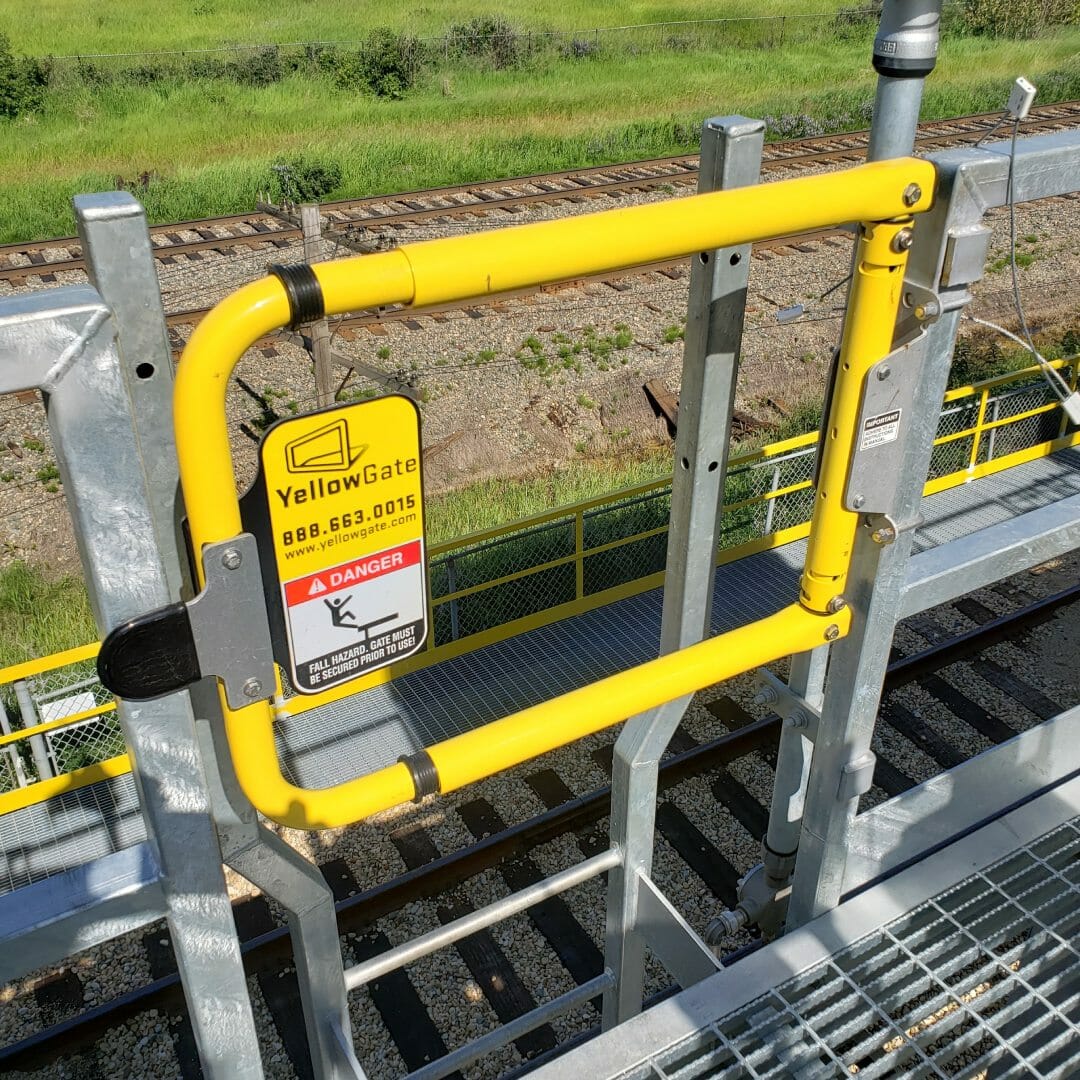 Industrial Safety Swing Gates
If you have any unprotected handrail, stair or ladder openings, your operators could be at risk. Installing an industrial safety swing gate will help elimanate the risk of falling through the opeing. quick installation
Universal mounting kits make installation a breeze.
unmatched safety
Designed to keep your work environment safe and secure. 
durability
Built to last and meet the toughest demands. 
RELIABILITY
Expert craftsmanship ensures superior products.